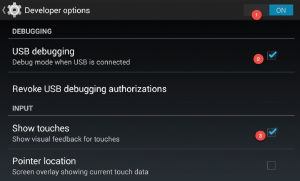 Rather than reading a tutorial guide or manual, wherein most of the terminologies are vague, it is better you go in for a visual tutorial. A YouTube video, tells you exactly on how to go about things. I am not a tech savvy person myself. But with the help of a YouTube tutorial, in front of me, I can clearly demonstrate to other users, as to how video screen casting is being performed.




A step by step version to record screencast videos on Android, as follows:
Step 1
Prepare your Android device for Screen casting

Flip open your Android handset and move to the option 'About Phone'. This is the last option on your screen menu. And you have to tap on 'Build Number' seven times, in quick succession. You will find a pop up image that says 'Developer Options'. Have the option enabled on your device, as such. This is how it looks like

You need to enable 'USB Debugging and Show Touches' option as shown in the above figure.
Step 2
Initial set up

You might either have a Windows computer or a Mac comp. Either-ways, you are required to install a zip file of Android SDK. You can install on your desktop itself, for easy access. You can take the zip file by visiting www.android.com, on the home page of Internet Explorer or Mozilla Firefox. These are the commonly used browsers. The browser application supported by I pad or Mac is Safari. You can unzip or rather run the file anywhere on your computer.

The Android SDK file is supported by both Windows as well as Mac.
Step 3
Connect your phone device to the computer

Every sophisticated mobile phone handset comes to you with convenient USB plug-ins so that you can download movies, pictures, photos and videos from either your Television set, pen drives or computer to the phone device.
Android is a sophisticated application which supports easy downloading of music and movies. Now connect the phone to the lap top or desk top using the USB cable. You get a pop up message on your handset as "Allow USB debugging". Click on OK button to continue.

Now open the command prompt in Windows, or the Terminal shell on your Mac, and switch (use the "cd" command) to the sdk/platform-tools directory inside the Android SDK folder.
Now, you are all set to go. The phone set gives you a confirmation saying that 'List of devices attached'. And you can be all excited to record your first video clipping on your brand new Android phone.
Step 4
Record the Screencast video

With the help of a technical user manual or downloading easy to follow tutorials from the internet, you can follow the instructions to video screencast movies or important clippings that you need to access on a day to day basis on your phone.

Now switch over to your phone and whatever you do on the recording platform will be saved on the phone as well. Once you are done with recording the entire video/audio file, you can again go to the command node and type in Ctrl + C to stop the video recording.

You can now find the required clippings on your Android phone set and can download a lot of exciting stuff from your system on to the phone.